Beauty Trends 2021: New Year New You!
2021-01-20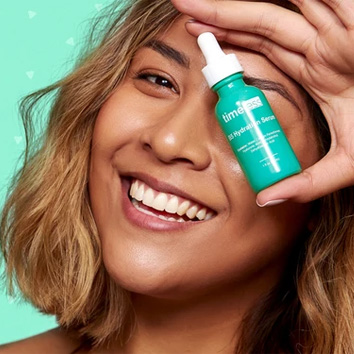 So long 2020! You compelled us to take beauty matters into our own hands, quite literally, when it came to facials, hair coloring, styling, manicures… (you get the idea!), but with our newfound beauty expertise and confidence, we're ready to tackle the worst effects of lockdown. From skyrocketing screen time, to endless hand washing and long-term mask wearing, new skin care trends address the toll that Covid-19 has taken on our skin. The latest skincare products and best skincare trends focus on skin health in order to let that inner beauty shine through. Here are Timeless Skincare's 3 Best Skincare Trends. Cheers to a New Year and a New You!
1. No Makeup Look aka "Skinimalism"
The no makeup natural look is all about keeping your skincare simple and embracing your natural beauty. By all accounts mask-wearing is with us for the long haul, so it makes sense to focus less on elaborate makeup routines, and more on keeping skin healthy and glowing.
Developing good skin habits early is key in age prevention skin care. A good skincare regiment to prevent wrinkles and go make-up free doesn't have to be complicated but a simple matter of gentle cleansing, hydrating and wearing sunscreen.
Facial oils continue front and center as part of the best skin care regiment, whether you want to achieve the no makeup look over 40 or as part of preventive skin care in your 20s.
Try This:

For an extra dollop of dewy goodness, layer Hyaluronic Acid 100% Pure into your serum lineup or combine into your daytime and nighttime moisturizer. Hyaluronic Acid 100% Pure helps rehydrate skin cells and fortifies the skin's natural lipid barriers to achieve that bright healthy glow.

Squalane Oil 100% Pure is the perfect 'glow up' for 2021- naturally anti-bacterial, it helps protect the skin against environmental damages while also fighting free radicals that contribute to skin aging. It also works as a protective oil, providing a barrier that can help alleviate points of friction from wearing a mask, especially on the nose, cheekbones and behind the ears where the most rubbing can happen.
2. Products to Combat "Maskne" and Promote Skin Health
While the World Health Organization continues to emphasize masks in helping to suppress virus transmission, an unfortunate side effect has emerged in the form of 'maskne'. It seems we are all walking around with a microclimate under that mask, where humidity, oil, sweat and dirt create a perfect storm for skin breakouts.
Pores get clogged and irritated from the mask rubbing against your face, disrupting the outermost layer of the skin which can lead to infections, inflammation, itchiness and flakiness. Luckily, there is a growing emphasis on products to help combat some of the worst effects of mask-wearing.
Try This:

Since wearing a mask can make your skin more sensitive, include gentle products such as HA Matrixyl 3000 Sprays. Infused with aloe and natural plant extracts, the hydrating sprays are the perfect hands-free pick-me up for hydrating and treating stressed and tired skin throughout the day.

A concentrated active ingredient serum, such as Vitamin B5 can help heal, regulate oil production and soothe inflammation, helping to prevent future breakouts.
3. Blue Light Protection Skin Care
Blue light from all that extra time we're spending on electronic devices- smartphones, tablets, laptops and TV screens- can adversely affect your skin. Dubbed the 'silent ager', exposures even as short as 60 minutes can accelerate the aging process, shrinking or even killing your skin cells.
Too much blue light, especially at night not only stimulates the brain into thinking it's daytime but can throw off the circadian rhythm of your skin cells too. The natural repair process that happens during sleep is suppressed, and the telltale signs of a bad sleep manifest not only in dark under-eye circles, but loss of firmness, fine lines and wrinkles.
Try This:

Just like the sun, the best way to protect your skin from blue light is to minimize your exposure. Wearing SPF on your skin and filtering the blue light from your devices with a protective shield (especially before bed!) can help preserve your sleep and your skin.

Using a powerful antioxidant serum like Coenzyme Q10 can also help defend the skin from the inside out, energizing skin cells to rebuild collagen and elastin.
Shelly, Timeless Skin Care Esthetician, concludes; "As we look forward to a year of transformation and healing, from the inside and out, may we take care of the skin we are in. In an effort to learn more ways to help protect our largest organ, the skin, we will feature future blogs to further address such subjects as the blue light. Yes, protection is prevention. Good skin health to all!"
DISCLAIMER: The information on our blogs has been compiled from published sources and the experience of the Timeless Skin Care team. The blogs are not intended to diagnose or treat a medical condition or to address every skin type or condition. While reasonable effort is made to publish reliable and up to date information, Timeless Skin Care cannot predict how a skin care regimen will affect every individual user. Timeless does not guarantee any specific outcomes or the accuracy of all information presented and accepts no liability in respect of any omission or error. If you are uncertain about possible sensitivity when using Timeless Skin Care products, please do a patch test before use. If you have any skin concerns, please talk to your physician or consult a dermatologist.