Get your skin ready for summer with Vitamin C!
2022-06-29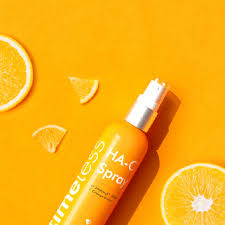 1. Magnesium Ascorbyl Phosphate
2. Why is this Vitamin C so important in your skin care routine?
3. Who should use products enriched with Vitamin C?
4. Combination of Vitamin C with Hyaluronic Acid
Magnesium ascorbyl phosphate (MAP) it the most stable form of Vitamin C. Works as an
antioxidant
- neutralizes free radicals, thus inhibiting the aging process. It works superficially, slightly exfoliates the epidermis, gently brightens and improves the skin tone (inhibits the activity of tyrosinase). It is especially suitable for sensitive skin that does not tolerate well other forms of Vitamin C. MAP is also recommended for pregnant and breastfeeding women.
Vitamin C is known to shield the skin from harmful pollutants in the air. It's an antioxidant, which means it limits the body's production of free radicals. Wondering why that's a big deal?
Free radicals
are unstable atoms that are usually short-lived and highly reactive. In an attempt to become more stable, they steal electrons from other atoms. The higher the number of free radicals in your body, the greater the damage to your cells. Pure Vitamin C protects
collagen production that reduces wrinkles
. It also offers protection from
harmful UV rays
.
Benefits of using Vitamin C skin care products
brightening
protecting
evening out the skin tone
antioxidant properties
boosting sun protection products
Vitamin C serum is suitable for all skin types, however, it might be more
beneficial for specific skin conditions
. In low concentration it is safe to use all year long - in the coldest days of winter as well as summer's hottest hours. The results you can expect vary - depending on the other ingredients it is combined with. Below you will find a list of skin concerns, which will benefit most from introducing Vitamin C in their skin routines.
Skin with discoloration
Whether your skin complexion is fair light or deep dark shade, you might face a problem of hyper pigmentation. Your skin's color comes from
melanin
. When this pigment is deposited in excess in different areas of the body, dark spots develop that are significantly different from your normal skin color. This is
hyperpigmentation
, which is a harmless condition that affects many people. Vitamin C skin care helps to fight the visible signs of already occured discoloration. Please remember it is important to prevent this type of problem - always use appropriate sun protecion products - your skin will thank you for that!
What causes hyperpigmentation?
UV exposure
chemical peels
some prescription medications
hormonal balance
pregnancy
vitamin deficiencies
Vitamin C evens out the skin tone and brightens any discoloration. Don't forget about including this Vitamin not only in your skincare, but in your
diet
as well! Brightening serum is a must for hyperpigmented skin, however, remember about a balanced diet to protect skin and maintain skin health. Your
immune system
can be compared to an army protecting your skin and body cells - it just needs a little help from the outside to work its best!
Mature skin
Vitamin C helps neutralize the oxidative damage that can accelerate the signs of aging. Skin's surface is a part of your body that has direct contact with
environmental stressors
and might be exposed to free radical damage. With the use of Vitamin C skin care, you can have faster regenerating skin cells, which gives the outside appearance of skin a more youthful appearance. Additionally,
Vitamin C promotes collagen production
, as collagen plays an important role in fighting off wrinkles or fine lines.
Hyaluronic Acid
is not actually an acid, like glycolic or salicylic acid that exfoliates the skin. HA is a complex sugar, known as a polysaccharide, that occurs naturally in the body providing hydration for our joints, hair, eyes and improving the skin elasticity.
Anti inflammatory properties
of the hyaluronic acid help to protect our sensitive skin. Applying the combination of Vitamin C and Hyaluronic Acid on your skin daily, will help you neutralize free radicals from the environment and soothe acne prone skin.
Antioxidants
found in skin care products may help you fight with general dullness and repair your skin's surface.
Timeless' Hyaluronic Acid + Vitamin C serum
is a great combination of skin care full of antioxidants. This stable form of Vitamin C in low concentration helps boosting your skincare routine to the next level!
For who?
Hyaluronic Acid Serum + Vitamin C
serum is a universal Vitamin C product, suitable for all skin types. The ingredients in the serum with antioxidant properties will be most helpful for skin:
with discoloration
exposed to sun damage
mature
dry
sensitive
How to use it?
Use in the morning and/or evening.
Apply a small amount of product on a cleansed skin, 2-3 drops with your fingertips. You can use the serum on your face, neck and around dark circles area. Avoid close contact with your eyes.
Wait until the product has fully absorbed into the skin before the next step in your routine.
In the morning be sure to finish your routine with an SPF.
Remember! Always perform allergy test on a small area of your neck or the back of your hand before applying the products on your face!
Key Ingredients
Hyaluronic Acid (1% concentration) - strongly moisturizes the skin by binding the water in epidermis
Matrixyl 3000® (1% concentration) - rebuilds collagen, has anti-wrinkle properties
Vitamin C (5% concentration) - antioxidant, evens the skin color, brightens discoloration and supports wound healing
Aloe Barbadensis - moisturizes and protects the skin, regenerates and soothes irritation
Care for your skin throughout the day
Caring for your skin does not have to be restricted to the AM/PM routines. Your skin needs extra refreshment at any time, especially in the highest temperature season!
Orange face and body spray with Hyaluronic Acid and Vitamin C
is a great solution to refresh and soothe your skin at any time. Needless to say, the spray is pure Vitamin C for your body! Hello healthy skin!
For who?
Suitable for all skin types.
How to use it?
before serum application in the AM or PM - use before your treatment serums to help with the absorption of the active ingredients
on top of make up - the spray can also be used as a makeup finishing spray. It will protect your skin with vitamin c and help with setting all of your make up layers
on hot days and when traveling - refreshing and soothing for tired skin texture of your whole body
In conclusion, it is recommended to implement some type of Vitamin C into your daily skin care routine. Our
Hyaluronic Acid + Vitamin C serum
is safe to combine with any other Timeless serum or skin care product and is beneficial to all skin types. Do you know it is called
"The Essetial"
? It is an essential product on everyone's shelf, that's for sure!
DISCLAIMER: The information on our blogs has been compiled from published sources and the experience of the Timeless Skin Care team. The blogs are not intended to diagnose or treat a medical condition or to address every skin type or condition. While reasonable effort is made to publish reliable and up to date information, Timeless Skin Care cannot predict how a skin care regimen will affect every individual user. Timeless does not guarantee any specific outcomes or the accuracy of all information presented and accepts no liability in respect of any omission or error. If you are uncertain about possible sensitivity when using Timeless Skin Care products, please do a patch test before use. If you have any skin concerns, please talk to your physician or consult a dermatologist.