How to layer multiple serums?
2022-08-17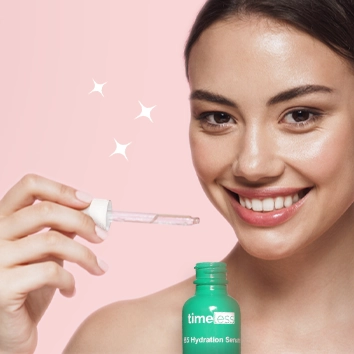 1. What is the Purpose of a Serum?
2. Which Serum Goes First?
3. Layering Serums by Skin Type
4. Do's and Don'ts!
Serums have become every skincare enthusiast's best friend, and a kind of secret weapon for getting clear, glowing, plump skin, no matter what skin type you have. Serums are made up of high concentrations of active ingredients, with smaller molecular structures so they can penetrate deep into the skin. They often target specific skin concerns, such as wrinkles, blemishes, dull skin, or loss of firmness, to name a few!
Let's make your skin care a
pleasure of the day
- 5 minutes to yourself when you devote your time fully to your skin! Find your balance after a long day - apply a serum on
freshly
cleansed skin everyday, you will see a difference!
Does your skin care routine include a serum? Do you know what they do to your face and why it is so beneficial to include them in your routine? Which one to choose? There are so many!
What do they do? Do I need them in my skin care routine?
Serums' purpose are different, depending on their main ingredients and actives they are packed with. Overall, serums' aim is to boost your skin surface, helping it firm, hydrate and prep for next skin care steps such as moisturizer or face mask.
Serums' properties depending on their aim
moisturizing.
firming
preventing scars
brightening (especially the ones enriched with Vitamin C!)
calming
soothing
*Please note, that if you already have a
routine that works for you
that's perfect, there is no black or white way to do it, just listen to your skin! If you have any skin concerns, please contact your dermatologist to ensure the product is safe for you to use.
With so many great benefits, who wouldn't want to hedge their bets and apply the lot? But Timeless Product Education Specialist, Shelly Leggins, recommends
not layering more than 2 active ingredient serums at one time
, in order to allow the serums to properly work their magic.
Let's get started
After cleaning your face with a mild face wash and drying it gently with a specially-purposed facial towel,
apply light, water-based serum
that absorbs quickly and preps your skin for further skin care routine.
In what order and how to layer serums?
Lightest weight, water-based serum
Heavier weight or less targeted, active ingredient serum
Facial oil, either before moisturizer, added to moisturizer, or after moisturizer (optional)
Moisturizer followed by physical SPF
Skin can be super tricky as it's always changing, depending on your age, environment, season, diet…the list goes on! There are so many combinations of serums depending on your current
skin concerns
, so we've broken it down for you. Here are some suggested serum layering options for different skin types: dry, oily, combination, sensitive and normal.
How to layer serums depending on your skin type?
Dry skin
AM
Kick-off your day with a good dose of hydration!
PM
For the bedtime
Oily Skin
AM
Time to soothe your skin before the day!
PM
Calming oily skin after long day of exposure to environmental factors
Combination skin
AM
Find the balance
PM
Peace with your skin after a long day
SENSITIVE skin (or easily irritated)
AM
Prep your face for harsh environmental factors
PM
Rescue the skin's surface
Normal skin
AM
Get ready for the day!
PM
Time to reset
Vitamin C Serum vs Retinol Serum
Apply more acidic products first, such as a Vitamin C serum.
Retinols
are formulated at a much higher pH, and along with Vitamin A, should not be used in combination with Vitamin C. It is best to
use retinol at night
because of their photosensitivity.
Two Products with the Same Actives
For most people
combining two actives
in one skin care routine (AM or PM) is too harsh on their skin. You are safe to use one in the morning and the other one at night - as long your skin is not too sensitive or you observe any kind of irritation.
Too many acids - too much trouble.
AHA acids (Alpha hydroxy acids)
Citric acid
Glycolic acid
Lactic acid
Malic acid
Tartaric acid
Mandelic Acid
BHA ACIDS (Beta hydroxy acids)
Salicylic acid
Beta hydroxybutanoic acid
Tropic acid
Trethocanic acid
Applying too many products
If you want to see results and become self conscious about your skin - try it out, test it and observe. Applying too many different products at once or changing them every day will not help you understand your skin's needs.
Do not apply more than two serums with active ingredients in your skincare routine
- you will not be able to tell which ones are right for you and which ones are not!
Which one did you choose?
In our serum
section
you will find all of the serums from Timeless along with the
pure line
.
If you still have any questions, please do not hesitate to contact us.
Visit our
Instagram
and
Facebook
page for more info and special skincare tips. Let us know which serum is your favorite and which one you would like to try out next!
DISCLAIMER: The information on our blogs has been compiled from published sources and the experience of the Timeless Skin Care team. The blogs are not intended to diagnose or treat a medical condition or to address every skin type or condition. While reasonable effort is made to publish reliable and up to date information, Timeless Skin Care cannot predict how a skin care regimen will affect every individual user. Timeless does not guarantee any specific outcomes or the accuracy of all information presented and accepts no liability in respect of any omission or error. If you are uncertain about possible sensitivity when using Timeless Skin Care products, please do a patch test before use. If you have any skin concerns, please talk to your physician or consult a dermatologist