Vitamin B5 vs. Hyaluronic Acid + Vitamin C serums - how to soothe your skin?
2022-11-18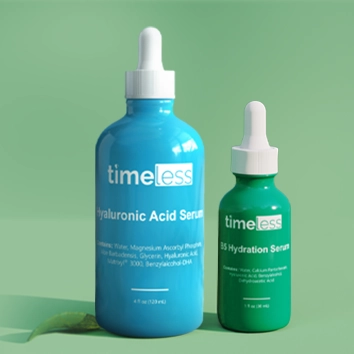 How to soothe irritated skin?
When it comes to
soothing the skin, take care of it at every step of your skincare routine
. For make-up removal, choose oils or butters that you spread with your hands as gently as you can. Avoid using cotton pads to rub the skin with it, because they can cause irritation.
In the case of sensitive skin, substances that can be irritating, allergenic and dehydrating should be avoided.
It is also worth paying attention to the very high concentrations of plant extracts and active substances in skin care preparations
. Despite their good properties, they can cause allergic reactions and irritation in high concentrations.
How to remove dead skin cells, if you have irritated, dry skin?
The best enzyme peels are gentle, do not require massage, and therefore no skin rubbing. It is better to avoid these coarse-grained or even fine-grained peelings with sharp particles, as they can cause reddening of the skin and its irritation. However, if the enzyme peels seem to be too delicate, I recommend mechanical peels with delicate particles or gommage peels.
The benefits of Vitamin B5?
It is one of the "older" substances that have been known for a long time, yet despite the constantly changing trends, manufacturers still very often use it in their cosmetics.
For good reason, because panthenol is great for healing wounds and soothes irritations and inflammation
. Additionally, it improves skin hydration.
Moisturizing dry skin,
wound healing,
soothes irritated skin,
skin regenerating,
eases redness.
The benefits of hyaluronic acid
ensures proper hydration, especially for dry skin,
soothe irritated skin,
has anti-inflammatory properties,
reduces skin irritation,
binds water in the epidermis,
improves skin elasticity,
supports the healing and regeneration processes,
slows down skin aging,
is a humectant, i.e. a moisturizing substance,
accelerates wound healing and regeneration of the epidermis,
has antioxidant properties, catching free radicals,
binds water and inhibits its evaporation from the skin,
protects the skin against harmful external factors,
creates an occlusion on the surface of the skin that reduces water leakage through the epidermis (TEWL).
The benefits of vitamin C
Seals blood vessels
- affects the synthesis of type I and III collagen. Collagens I and III are essential components of the dermis and the supporting substance of blood vessels.
It has anti-inflammatory properties
- they result from the reduction of the activity of the nuclear transcription factor NFκ-B, responsible for the production of pro-inflammatory cytokines, including interleukin 10 (IL-10). Interleuikin 10 (IL-10), as one of many pro-inflammatory cytokines, is responsible for maintaining local inflammation, which means that the skin needs more time to regenerate.
It has a whitening effect
- it has the ability to inhibit the tyrosinase enzyme, which is involved in the formation of melanin - the skin pigment. This results in the formation of a smaller amount of dye and reduction of the existing one, which results in lightening of the skin or - with longer use - also unifying its color.
Supports protection against UV radiation
- reduces the erythema caused by UVB radiation, making it a perfect complement to the action of sun filters.
Timeless - Skin Care - Vitamin B5 Serum
If you feel that your skin needs hydration, relief and relaxation, choose a serum with vitamin B5! You will forget about red, irritated skin that burns with every touch.
Vitamin B5 is an essential ingredient that allows our skin to function properly. It soothes any skin irritation and inflammation
. Hyaluronic acid (HA) as a natural substance found in the skin is responsible for its proper hydration. This serum improves skin condition and cares for skin barrier, eliminates itchy skin, and it is suitable for all skin types. It comes in two different sizes, you can choose between 30 ml and 120 ml.
Timeless - Skin Care - Vitamin B5 Serum
A rich face serum containing hyaluronic acid, Matrixyl 3000® and vitamin C.
Vitamin C is a strong antioxidant that evens out the skin tone, brightens discolorations and inhibits their formation, and supports wound healing
. Matrixyl 3000® has an anti-wrinkle effect, and aloe vera soothes the skin and soothes irritations. The serum has a vegan formula. This is really moisturizing, and if you have dry skin, you will love that formula. It calms irritated skin, and provides a healthy skin feeling. It contains peptide and vitamin C, which are helping with premature aging. It comes in two different sizes, 30 ml, and if you are a huge fan of that product - 120 ml.
I hope, that You will choose one of these products (or two, if you love timeless like me). If you have dry skin, you are exposed to skin irritants like essential oils, sun exposure, some natural ingredients I think You will be in love in both of these!
DISCLAIMER: The information on our blogs has been compiled from published sources and the experience of the Timeless Skin Care team. The blogs are not intended to diagnose or treat a medical condition or to address every skin type or condition. While reasonable effort is made to publish reliable and up to date information, Timeless Skin Care cannot predict how a skin care regimen will affect every individual user. Timeless does not guarantee any specific outcomes or the accuracy of all information presented and accepts no liability in respect of any omission or error. If you are uncertain about possible sensitivity when using Timeless Skin Care products, please do a patch test before use. If you have any skin concerns, please talk to your physician or consult a dermatologist.