Why is Hyaluronic Acid our Holy Grail for Healthy Skin?
2022-10-11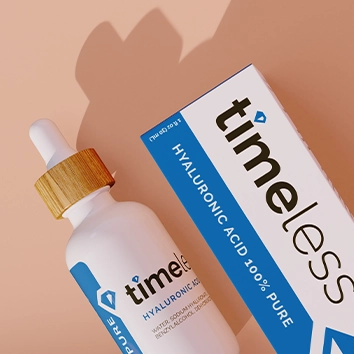 1. What is Hyaluronic Acid?
2. How to Incorporate HA into Skin Care Routine?
3. Which Active ingredients can be mixed with Hyaluronic Acid Serum?
Let's face it, we all want vibrant, dewy skin, no matter what our age or skin challenge! Young or old, blemishes or wrinkles, the key to healthy, glowing skin is well hydrated skin. Right now, the superpower ingredient that everyone is talking about is HA. Hyaluronic Acid serums are conquering the world thanks to their super beneficial properties.
Don't let the word 'acid' in Hyaluronic Acid scare you away.
Sodium Hyaluronate
or shorter - HA is one of the best moisturizers for
dry skin and oily
, for
sensitive skin
as well as problematic. HA is a sugar molecule that occurs naturally in the body, providing hydration for joints, eyes and skin. It is renowned for holding up to 1000 times its
molecular weight
in water and also works as a humectant, attracting moisture from the environment and binding it to
skin cells
. Is is often used as an ingredient on its own or a part of more complex Hyaluronic acid serum.
As we age, our skin naturally begins to
lose collagen
and Hyaluronic Acid, causing the skin to become more
dehydrated
and less youthful looking. Loss of moisture and skin cell renewal plays a factor in the appearance of fine lines and wrinkles. But even before you start seeing any visible signs of aging,
the best Hyaluronic Acid serum
helps keep the skin hydrated and healthy, protecting the skin barrier against environmental damages.
It is safe to use while pregnant and breastfeeding.
Allergic reactions
to Hyaluronic Acid are rare, but remember to always perform a patch test to minimize the risk of irritation from Hyaluronic acid serums.
By incorporating the best Hyaluronic Acid Serum available in your beauty routine, you will be building a defense for your skin against future damage by maintaining optimal
moisture levels
. What are the best hyaluronic acid serums for me?
Why should you use hyaluronic acid serum everyday in your skincare routine?
HA is great for all skin types, due to its lightweight nature that absorbs easily into the skin. Best hyaluronic acid serums have strong properties, leaving you healthy and plump skin. Do you want to improve your skin elasticity and bring out the healthy glow? Still not convinced? Have a look of the list below:
Here are the top 6 benefits for incorporating Hyaluronic Acid Serum into your skin care routine.
Hydrates dry skin: absorbs into the skin, binding moisture to skin cells, supporting elastin and the collagen matrix.
Increases Protection: fortifies the skin's natural lipid barriers, protecting against environmental damages.
Tightens and Lifts Skin: fills skin with moisture, helping tighten saggy skin and improve elasticity, firming facial contours.
Reduces Fine Lines and Wrinkles: reduce the appearance of fine lines and wrinkles by plumping up skin cells, making skin more supple.
Smooth Texture: combine with a derma roller to help with acne scarring and smoothing out the skin, allowing make up to glide on, not creasing into imperfections.
Fight Against Acne: by improving the lipid barrier, the skin is better able to protect itself against inflammation and irritation which causes breakouts.
Timeless has two fantastic HA products to add into your skin care routine, such as blending
Hyaluronic Acid Serum 100% Pure
into your day time and night time moisturizer, or as an ultra hydrating serum, with the "Essential" Timeless'
Hyaluronic Acid Vitamin C Serum
to brighten, clarify and protect.
In fact, HA is increasingly being used in other areas of
health
, rather than just as an anti-aging product for your
skin health
. The FDA has approved HA for injections in the treatment of pain for osteoarthritis patients, and it has also been shown to support intestinal wound healing, fighting inflammation in the gastrointestinal tract. The Amino Research Team lists these foods as containing the highest levels of Hyaluronic Acid:
Sweet potatoes
Jicama
Jerusalem artichokes
Lemons
Oranges
Grapefruit
Tomatoes
Leafy greens
So, go grab one of these great fruits or vegetables, smooth on some serum and enjoy the benefits of Hyaluronic Acid inside and out!
Combination of Hyaluronic Acid with other active ingredients is safe and there are no major precautions you have to take regarding your skin health. Every person, however, might experience
allergic reactions
to any skin care product or certain ingredient, so remember to perform a 24-hour test on your arm before using a new product or combination on your face. Facial skin is much more sensitive because of the thinner barrier and density of nerve endings.
But how to choose the
best hyaluronic acid serums
? Are they any different from each other? Does my skin need extra hydrating serum?
Hyaluronic Acid is a great base for any skin care routine
The less ingredients, the lower risk of skin irritation and inflammation. If you have specific skin concerns, you should take the most advantage of the simplest products. Skincare routines should be nicely fitted to our needs and overall health. Changing seasons encourage us to make minor changes in our routines, especially in the colder months, when our skin is most demanding.
Timeless' Pure Line is all about the Simplicity.
100% Pure Hyaluronic Acid Serum
can be used on its own or added to your favorite moisturizer (just a few drops of HA will make your skin even more hydrated and smoothed!). Pure Hyaluronic acid is beneficial for all skin type, especially dry, mature or
acne prone skin
.
How it works:
Skin type and cosmetic defects for which this product might be helpful:
dry skin
dehydrated skin
mature skin
Hyaluronic Acid + Vitamin C Serum
or as we like to call it
"The Essential"
is packed with active ingredients such as
Hyaluronic Acid, Matrixyl 3000® and Vitamin C
. Vitamin C is a strong antioxidant which works with uneven skin tone, brightens and prevents discolorations, supports wound healing. Matrixyl 3000® has
anti-wrinkle
properties, rebuilds collagen, while Aloe Barbadensis soothes and eases irritation. Your face appears luminous and bright, giving you that well-rested, 'just had a full night's sleep' effect.
Vitamin C Serums
are especially beneficial for dry or problematic skin.
How it works:
brightens the skin
moisturizes
evens the skin tone
has antioxidant properties
Skin type and cosmetic defects for which this product might be helpful:
skin with discoloration
mature skin
dry skin
What about combination and oily skin?
Hyaluronic Acid Serums do
not cause clogged pores
or leave a heavy residue, so they are a perfect match for ANY skin types!
Oily skin
needs to keep the
hydration levels
balanced as well, so Hyaluronic Acid serums are the key warriors in the skin barrier battle!
Pure Hyaluronic Acid
is the best Hyaluronic Acid serum available for your skin, whether it is
combination skin, normal skin, dry skin or oily skin
.
Affordable hyaluronic acid serum
to hydrate skin and
retain moisture barrier
? YES, PLEASE!
If you still have any concerns, please feel free to ask! We are here to help you pick out the best hyaluronic acid serums possible and choose the perfect routine for you!
DISCLAIMER: The information on our blogs has been compiled from published sources and the experience of the Timeless Skin Care team. The blogs are not intended to diagnose or treat a medical condition or to address every skin type or condition. While reasonable effort is made to publish reliable and up to date information, Timeless Skin Care cannot predict how a skin care regimen will affect every individual user. Timeless does not guarantee any specific outcomes or the accuracy of all information presented and accepts no liability in respect of any omission or error. If you are uncertain about possible sensitivity when using Timeless Skin Care products, please do a patch test before use. If you have any skin concerns, please talk to your physician or consult a dermatologist.