Top 3 skin care trends for a fresh face this autumn
2022-09-27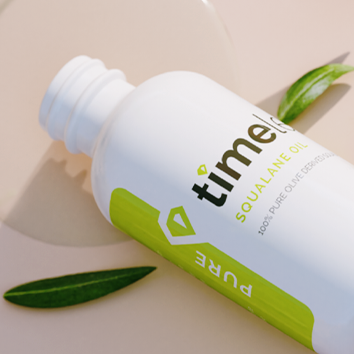 1. Healthy approach to beauty
2. Anti-pollution routine for sensitive skin
3. Simplicity in your skincare routine
Days are getting shorter, the sun is setting faster and...is your skin getting drier?
Cooler weather
affects your skin's surface and without proper care, your face and body might get dehydrated. It is good time to take care of
dead skin cells
left after sun exposure in the summer (we hope you didn't forget about an SPF!)
For those still working from home, and wearing a mask when out, many of us are foregoing a full makeup look and focusing on
clean, healthy skin
instead.
Here, we've rounded up our
top 3 favorite skincare trends
to achieve your perfect fresh face for fall. And of course, we've included our favorite Timeless products to go with each one!
Supporting our physical, mental and emotional well-being is a big trend this season. At-home facials are a great way to unwind as part of a self-care regimen. To help achieve that spa-like facial, try the
Micro Needle Dermaroller
. The tool effectively stimulates the skin's renewal process by creating tiny channels in the skin with microscopic needles. You will find it in two varieties:
1 mm - may be used once a month or twice a month once your skin can tolerate weekly treatment. Works best on deep indentation acne scars, stretch marks, large pores, hyperpigmentation, hair growth, and wrinkles.
0,5 mm - may be used once a month or every 7 days only once your skin can tolerate weekly treatment. Works best on large pores, hyperpigmentation, wrinkles, and shallow scars.
Application method
Before the application, clean hands and the place where the device will be placed. Unfold paper towel on which you will put the derma roller after its disinfection and use. Then cleanse the skin on the face and neck.
Disinfect the device, put on the paper towel, and leave to dry.
Start rolling treatment. Make vertical movements then horizontal and at the end oblique. A couple of times in the same place. Remember to obtain equal, medium intensity pressure on the skin. The entire treatment should last 15 to 20 minutes.
After the treatment, put the device on the paper towel.
Apply skin care products on the skin, serum or cream. Massage in gently making circular motions.
Disinfect the device, leave to dry.
What about make up?
If you like wearing it, there is nothing to hold you back! If you, however, face specific skin conditions such as acne, dryness or inflammation, it would be good for you to look into mineral foundations. This type of product has
anti inflammatory properties
and affects your skin health - it does not clog pores and is oil free. The ingredient list is extremely short as it is based on pure minerals - 100% natural! Mineral foundations are great for cooler months, especially if you have a problem with extra dryness.
The
idea of beauty
is always shifting. Only
one beauty never goes out of style
; fresh and healthy skin!
Air pollution is cited by the World Health Organization as the world's largest single
environmental health risk
. With air pollution on the rise, skin is even more at risk of looking dull, clogged and spotty.
Protective Serums
An addition of certain
active ingredients
benefits your routine and helps to tend your skin and defend it from harmful environment and protect skin barrier.
Air pollution
, cold weather, wind and temperature variations…only to name a few of the irritants of your skin. Seasons change and so should your
skin care routine
. Depending on your skin type and its needs, you should choose the best set for you, whether the serum should be
anti inflammatory
, hydrating or calming - you know your skin best!
Vitamin B5
A concentrated
active ingredient
serum , such as
Vitamin B5
can help heal, regulate oil production and soothe inflammation, helping to prevent future breakouts.
Hyaluronic Acid + Vitamin C
Vitamin C is a powerful antioxidant that helps neutralize free radicals and protect the skin barrier, helping to brighten and clarify.
Hyaluronic Acid + Vitamin C serum
is great to achieve all of the effects with extra hydrating properties. It is suitable for all skin types and can be used all year long
Coenzyme Q10
Try Coenzyme Q10 serum to energize the skin and build up collagen and elastin for firmer, smoother skin.
Coenzyme Q10
is a powerful, naturally-occurring antioxidant that energizes skin cells to rebuild collagen and elastin.
Transparency in skincare is becoming more important as consumers are more informed and conscientious about the ingredients that they are putting on their skin , as well as the carbon footprint of the skincare products they're purchasing. At Timeless Skin Care we manufacture with all special care, without the use of harsh chemicals, animal testing, fillers, parabens, dyes or fragrances.
Simple formulas
The less ingredients, the lower risk of skin irritation and inflammation. If you have specific skin concerns, you should take the most advantage of the simplest products. Skincare routines should be nicely fitted to our needs and overall health. Changing seasons encourage us to make minor changes in our routines, especially in the colder months, when our skin is most demanding.
Timeless' Pure Line is all about the Simplicity.
Our Pure Line is the perfect boost to your
skincare routine
. These individual ingredient products can be used alone or added to your favorite hair, face, or body creams and are ideal for those who have a more
sensitive skin
type.
The natural and gentle Pure Line will give you the timeless skin you want safely, effectively, and affordably.
Hyaluronic Acid 100% Pure
Keep your skincare routine simple by combining Pure Line products, such as
100% Pure Hyaluronic Acid
, into your moisturizer to rehydrate skin cells, fortifying the skin's natural lipid barriers and protecting the skin against
environmental damages
.
Squalane Oil 100% Pure
Applying a protective oil, such as
Squalane Oil
helps to seal in hydration and moisture. Naturally
anti-bacterial
, the oil works like a liquid bandage over the skin, providing a protective barrier to help keep contaminants such as
pollution
out.
Also, you can apply the oil as a make up primer on a cleaned face or mix with your favorite foundation.
Argan Oil 100% Pure
Argan Oil
is one of most multi-purpose products to use in your beauty routine. Add a couple of drops to your hair conditioner for extra shine or massage into your scalp to relieve
dry
and itchy surface. Use Argan Oil to heal weak and damaged nails due to its high vitamin and its
essential fatty acids
.
We must admit, these trends are keepers and hopefully taking proper care of skin will never go out of style.
Conscious Skincare
is spreading fast and constantly developing new ideas.
Which of these trends will you implement into your skincare routine?
DISCLAIMER: The information on our blogs has been compiled from published sources and the experience of the Timeless Skin Care team. The blogs are not intended to diagnose or treat a medical condition or to address every skin type or condition. While reasonable effort is made to publish reliable and up to date information, Timeless Skin Care cannot predict how a skin care regimen will affect every individual user. Timeless does not guarantee any specific outcomes or the accuracy of all information presented and accepts no liability in respect of any omission or error. If you are uncertain about possible sensitivity when using Timeless Skin Care products, please do a patch test before use. If you have any skin concerns, please talk to your physician or consult a dermatologist.